With the purpose of promoting Afro-Asian economic and cultural cooperation in addition to taking a stance against colonialism, 29 heads of states from both continents assembled on the 18th to 24th of April 1955, in Bandung, Indonesia.
President Sukarno of Indonesia, Premier Zhou Enlai of China, Premier Jawaharlal Nehru of India, and President Gamal Abdel Nasser of Egypt, just to name a few, were some of the key figures at the conference who spurred on the Bandung Declaration. The declaration inspired nationalist movements across both continents, re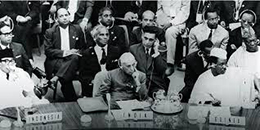 mapped world politics and set up the cornerstone for Afro-Asian cooperation.